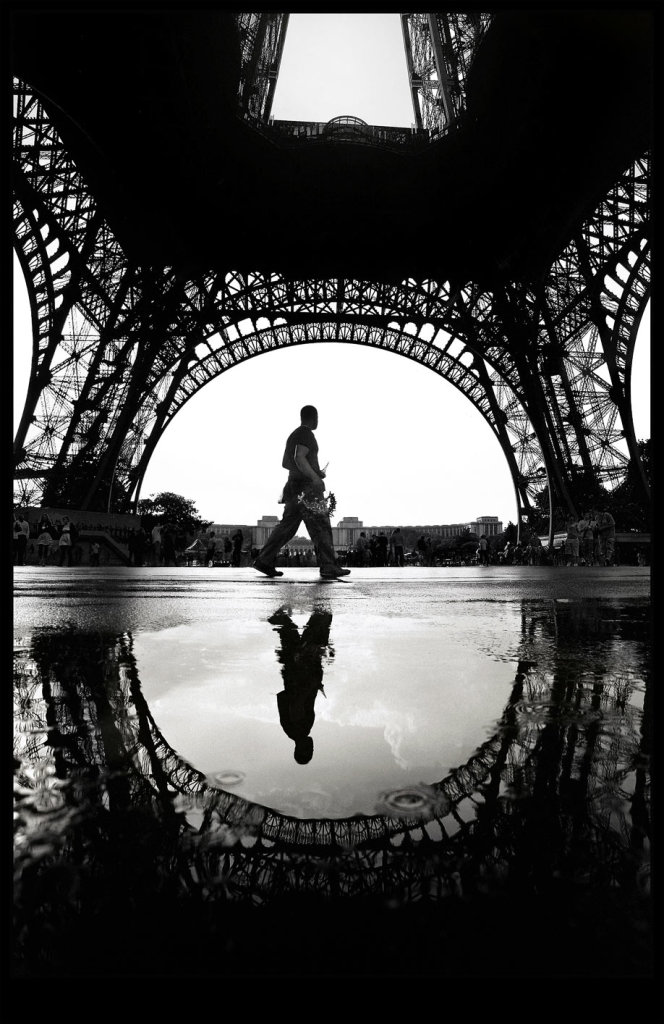 I had only two days in Paris and had hoped to get a unique take on the Eiffel Tower. The second day was very hot but just as I came close to the tower it began to rain heavily. 
What I noticed was that the many street peddlers had ditched the small models of the Eiffel Tower they had been selling and were not running around selling umbrellas. As I was getting soaked along with all of my camera gear I requested an umbrella from a passing seller. 10 Euro he asked for. The crowd I was trying to hide under the small shelter with booed the guy as these things were barley worth 50 cents. 
But as I and my camera gear were going to get drenched otherwise I spent no time arguing and took the umbrella. 
Ten minutes later the rain had subsided. As I noticed the reflection the gentleman who had sold me the umbrella walked past, this time loaded with small models of the Eiffel Tower to sell. I quickly grabbed this shot of him walking past. 
I may have paid too much for the umbrella but I had managed to get a rare perspective of one of the worlds most photographed icons. 
Good deal as far as I'm concerned. 
When Andrew Bolt mentioned about this image on his blog I received an extra 4000 hits to this site in one day. I was surprised when I checked my stats but appreciative of course.